The mission at Pollard McCall Jr. High School is to empower students to make sound decisions throughout life.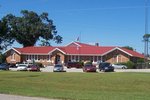 McCall School was named in honor of Lt. Claude M. McCall, who lost his life at Vesle River, France, in 1918. It was completed in 1922 with the help of the late Mr. J. H. Barker, Mr. E. E. Jackson, Mr. W. T. Godwin, of the building committee, and the late L. K. Benson as Superintendent of Education. The building consisted of five classrooms, an office, and an auditorium.

Beulah, Catawba, and Friendship schools were consolidated to from the new school. Beulah School was named for an old Methodist church. It was built before 1886 and had one room and one teacher for seven grades. Catawba School was named for Catawba Church and was built before the Civil War. It had one room and one teacher for seven grades. Herrington School, named in honor of Mr. Jim Herrington, who owned a hotel in Herrington Community, consolidated with Catawba in 1922. It had one room and one teacher and was located one-half mile south of Keego. Friendship School was also named for a church and was built in 1890. It had one room and one teacher for seven grades.

Ten years later, 1932, Shady Grove School in the Graves Community was consolidated with McCall. The reason for calling the school "Shady Grove" was that it was built in a shady oak thicket. It was built between 1890-95, and had one room and one teacher for six grades.

In 1945, Mr. O. C. Weaver, Superintendent of Education along with the county school board and in particular especially the board member Mr. Curtis Finlay from our community, voted to repair and build four additional classrooms to McCall School.

At the beginning of the fall term in 1947, Pollard and Pineview Schools were consolidated with McCall. Pineview School was located in the pine thicket which gave it the name Pineview. It was built in 1927 and had one room and one teacher for six grades. Pollard School, built before the Civil War, was so called because it was located in Pollard, which was named in honor of a President of the L&N Railroad Company. Before a school was built a house was used. When the school was built it consisted of four rooms. It had four teachers and nine grades. It was consolidated with McCall in 1947, and it was at this time that school's name was changed to Pollard McCall.

In 1969, Oak Grove/Pollard School was consolidated with Pollard McCall. Buildings constructed since this time include a lunchroom in 1970, a gym in 1979, and a media center with two new classrooms in 1999. In 2010, the Curtis Finlay Foundation sponsored the addition of two new classrooms to help with the growing population of the school. In 2011 the media center with two classrooms burnt down and in 2012 the new and improved media center with two classrooms were opened for business.

Several persons have served as principals of the school: Miss Jessie Barker, Mrs. Inez Venson, Mr. J. D. Bolan, Mr. Parie Clark, Mr. Billy Merriweather, Mr. Fred Feagin, Mr. Dawsey Glass, Mr. A. C. Freeman, Mrs. Ottis Emmons, Mr. Vernon "Buck" Jones, Mr. Fletcher Gillis, Mr. Kenneth Corbin, Mr. Danny Norwood, Mr. Hugh J. White, Mr. Stewart "Buddy" Powell, and presently Mr. Randall Jackson.